EMPTY ALL CAGES
Editor's Note: With the exception of the pictures, this article is taken straight from Peterson's Hunting because its just pleasurable to see the hunters whine about this "loss." You can read comments at the end as well. I say have fun mocking the hunters today!
Source: Peterson's Hunting Website
If you're a fan of The National Geographic Channel on Twitter you likely saw this message yesterday at 2:47 PM:
Fans, The National Geographic Channel has carefully considered the public discussion of our series on surviving the wilds of Alaska currently in production and premiering sometime next year. Upon further reflection we plan to eliminate one of the survivalists from the ensemble cast, Melissa Bachman. Hunting is not the focus of the show, and we regret the misinformation that has clouded what we hope will be an exciting adventure series set in the incredible Alaskan landscape.
What could drive Nat Geo to make…
View original post 649 more words
Exposing the Big Game
by Gary  Francione
Melissa Bachman, who is the host of a hunting show called Deadly Passion, announced on her Facebook page on November 1 that she had killed a lion in South Africa and she posted this picture: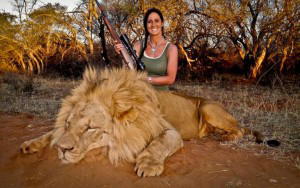 The response was remarkable. According to one story, "Bachman found herself the target of vicious death wishes and obscenity-laced insults on Monday as critics on Twitter, YouTube and other social networks blasted the Minnesotan for her boastful hunting escapades." According to another story, "More than 250,000 people have signed an online petition demanding that South Africa deny future entry to Melissa Bachman, a big game hunter whose smiling photo with a dead lion has sparked considerable outrage."
And, to no one's surprise, the large animal welfare charities are rushing to create a fundraising campaign with a petition to have lions listed as endangered under the Endangered Species Act…
View original post 385 more words